Innovation in Practice
In its sixth year, the Energy Conference on Maui was renamed the Hawaii Energy Conference (HEC) to reflect what it has always been–the premier Energy Conference in Hawaii focused on statewide interests as seen through the prism of national and international developments in energy.
Hawaii has experienced enormous growth in distributed energy resources, primarily photovoltaic systems. This year's conference will take an in-depth look at the innovative policies and technologies that continue to allow rapid growth in PV, and will compare Hawaii solutions with those in Colorado, California and other states. We will also ask what the right blend of fossil fuel and renewable energy sources is for the portion of our economy not covered by the Renewable Portfolio Standard. Come join the discussion at one of the nation's leading energy conferences.
Media Coverage of the 2019 Hawaii Energy Conference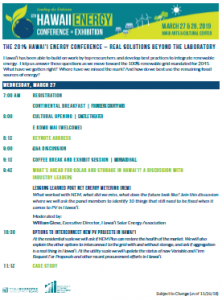 ---
PHOTOS & VIDEOS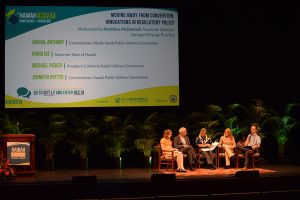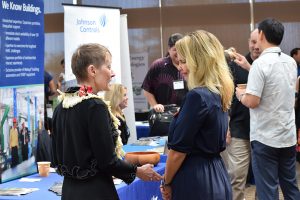 Session 10 – What are the investment opportunities today in energy?

---
Program at a Glance
Wednesday,
March 27

CONFERENCE OPENING & KEYNOTE

WHAT'S AHEAD FOR SOLAR AND STORAGE IN HAWAI'I?

Lessons Learned Post Net Energy Metering (NEM)
Hawaii Distributed Energy Resources (DER) – Redefined for the 21st Century

PERFORMANCE BASED REGULATION (PBR) AND OTHER NEW DIRECTIONS IN HAWAI'I ENERGY POLICY

Moving Away From Convention: Innovations in Regulatory Policy
Mega Trends in Repowering Colorado's Economy

THE REAL WORLD OPPORTUNITIES BETWEEN NOW AND 2045

What are the Investment Opportunities Today in Energy?
Sustainable Air Tourism

EXHIBITION

NETWORKING RECEPTION

Thursday,
March 28

WELCOME TO DAY TWO

INVITED PRESENTATION

OPERATING ISOLATED GRIDS EFFICIENTLY WHILE BEING RESILIENT

Moloka'i as a Case Study
Complex Isolated Grids

COMPARING PATHS TO 100%

A Survey of Hawai'i
Clean Energy Leaders

UNLEASHING THE POWER OF CLEAN ENERGY IN HOUSING MARKETS

Lessons Learned from Building in Hawai'i
Does Energy Efficiency Still Matter?

EXHIBITION

CONFERENCE CLOSING

WOMEN IN RENEWABLE ENERGY (WiRE) PAU HANA*
---
Meet the Program Committee
Colton Ching | Senior Vice President, Planning & Technology, Hawaiian Electric
Frank De Rego Jr. | Vice Chair, Conference Program Committee; Director of Business Development Projects, Maui Economic Development Board, Inc.
William Giese | Executive Director, Hawaii Solar Energy Association
Jonathan Koehn | Senior Sustainability Policy Advisor, City of Boulder
Dawn Lippert | Chief Executive Officer, Elemental Excelerator
Doug McLeod | Chair, Conference Program Committee; Member, DKK Energy Services, LLC
Jennifer Potter | Commissioner, Hawaii Public Utilities Commission
Frederick Redell | Co-Founder and Managing Member, BlüNebü
---
Sponsors of the 2019 Energy Conference

CHAMPION

CARBON LIGHTHOUSE is on a mission to stop climate change by making it easy and profitable for building owners to eliminate carbon emissions caused by wasted energy. The company's unique approach to Efficiency Production goes deep into buildings to uncover and continuously correct hidden inefficiencies that add up to meaningful financial value and carbon elimination that lasts.
Visit Site
The HAWAI'I NATURAL ENERGY INSTITUTE (HNEI) conducts essential energy research relevant to Hawaii and the world. Programs focus on identifying technically sound, cost effective solutions and practical strategies that can be implemented to deliver commercially viable renewable energy. The ultimate goal is to achieve a stable and cost-effective energy mix for Hawaii, while reducing our dependence on oil and other fossil fuel resources. HNEI brings together people from a wide range of disciplines and different types of organizations to tackle the urgent and complex sustainable energy needs of the state and the nation. Analysis, research, engineering, economics, and policy are integrated to develop technology, strategies and policies that will have significant positive impact on the energy mix.
[Visit Site]
At JOHNSON CONTROLS, we have seen the future of buildings, facilities, campuses, and cities. That future is intelligent, using embedded sensors, real-time data monitoring, and smart, automated systems that make every location safer, more productive, and more efficient. This means the people you serve are safer, more productive, and more efficient—and it means the world as a whole gets more sustainable.

Working with our customers and partners around the world, we are creating a smart future for all kinds of facilities by applying our vast experience in building-related equipment and systems and our deep knowledge of contemporary technologies in intelligent controls and batteries.[Visit Site]

ULUPONO INITIATIVE is a Hawaii-focused impact investing firm that uses for-profit and non-profit investments to improve the quality of life for island residents in three areas: locally produced food; renewable energy; and waste reduction.
[Visit Site]

PARTNER

INNERGEX Renewable Energy Inc. is a leading independent renewable power producer active since 1990. We develop, acquire, own and operates run-of-river hydroelectric facilities, wind farms,solar photovoltaic farms and geothermal facilities. We have operations throughout Canada, United States, France, Iceland and Chile and our growth is powered by our many prospective projects and acquisitions.
[Visit Site]

STAKEHOLDER

For more than 100 years, the HAWAIIAN ELECTRIC COMPANIES have provided the energy that has fueled the islands' development from a Hawaiian kingdom to a modern state. Hawaiian Electric Company, and its subsidiaries, Maui Electric Company, and Hawaii Electric Light Company, serves 95% of the state's 1.4 million residents on the islands of Oahu, Maui, Hawaii Island, Lanai and Molokai. Since 1891, we have been entrusted to power these islands and empower its citizens – a responsibility that has been both our mission and our honor.
[Visit Site]
HAWAII ENERGY is the ratepayer-funded conservation and efficiency program for Hawaii, Honolulu and Maui counties administered by Leidos Engineering, LLC under contract with the Hawaii Public Utilities Commission. We are here to help you save money on your electric bills and reduce our state's dependence on imported oil.
[Visit Site]
PXiSE ENERGY SOLUTIONS LLC., headquartered in San Diego, is a subsidiary of Sempra Energy and partially owned by Mitsui & Co., Ltd. Formed in 2016, the company develops, operates and markets ACT, a next-generation software power-grid management technology for renewable energy developers and operators, grid operators, commercial property owners and microgrids. .
[Visit Site]

ADVOCATE

POWIN ENERGY has a 26-year history as a global manufacturer supplying design,
engineering, manufacturing, and logistics services and is creating the next wave of safe and scalable battery energy storage that is purpose-built for the demands of utility-scale, commercial and industrial, and microgrid applications. Powin is headquartered outside Portland, Oregon with its dedicated assembly facility in Yangzhou, China and additional engineering, programming, and procurement professionals at its Qingdao, China office. With an unrivaled team of experts from across the energy industry, almost three decades of supply chain management expertise, extensive battery management software proficiency, a modular architecture, and a streamlined installation process, Powin is making energy storage highly cost-effective and pain free. [Visit Site]

SUPPORTER

AMERESCO helps organizations meet energy saving and energy management challenges with an integrated comprehensive approach to energy efficiency and renewable energy. Leveraging budget neutral solutions, including energy savings performance contracts (ESPCs) and power purchase agreements (PPAs), we eliminate the financial barriers that traditionally hamper energy efficiency and renewable energy projects.
[Visit Site]
AMPAIRE is a tech startup based in California. Our mission is to be the world's most trusted developer of practical, compelling electric aircraft from short haul cargo to supersonic passenger transport.
[Visit Site]
BURNS & MCDONNELL are a full-service engineering, architecture, construction, environmental and consulting solutions firm, based in Kansas City, Missouri. Our staff of 5,700 includes engineers, architects, construction professionals, planners, estimators, economists, technicians and scientists, representing virtually all design disciplines. We plan, design, permit, construct and manage facilities all over the world, with one mission in mind: Make our clients successful.
[Visit Site]
The U.S. DOE Western CHP Technical Assistance Partnership (CHP TAP) offers complimentary screenings, technical assistance, and expert advice to help cities, states, businesses determine if CHP is a good fit for their site. As leading experts in CHP—as well as microgrids, heat to power, and district energy—we work with sites in California, Hawaii, Arizona and Nevada to screen for CHP opportunities as well as provide 100% federally-subsidized advanced technical services to maximize the economic impact and reduce the risk of CHP from initial screening to installation.
[Visit Site]
EATON is a power solutions company helping utilities meet their goals. Eaton is an industry leader in DR solutions with a full portfolio of interfaces and communication options. Our DR solutions provide advanced algorithms for precise comfort and targeted reductions in energy use, multiple communication options, plus remote management. Eaton offers a flexible platform that allows utilities to evolve with changing technology, while maintaining control of capital spending and budgets. Our solution is forward and backward compatible, giving you the capacity for future expansion. Implementing our innovative Demand Response solutions does not require across-the-board equipment replacement and configuration, saving utilities time and money.
[Visit Site]
GRIDWORKS' mission is to convene, educate and empower stakeholders working to decarbonize electricity grids. Since 2010, Gridworks (formerly known as "More Than Smart") has enabled this mission through four strategies: by identifying high-value challenges to decarbonizing electricity grids; convening stakeholders and providing them neutral ground, technical support and facilitation to identify break-through solutions to identified challenges; publishing and helping implement identified solutions; and adapting successful solutions to new markets.
[Visit Site]
The HAWAII ENERGY POLICY FORUM was established in 2002 as a collaborative energy planning and policy group. The organization consists of roughly 40 representatives from the electric utilities, oil and natural gas suppliers, environmental and community groups, renewable energy industry, academia, and federal, state and local government. The Forum's mission is to enable informed decisions to advance Hawaii's clean energy future by convening a collaborative network of stakeholders for fact finding, analysis, information sharing, and advocacy.
[Visit Site]
NESTE creates sustainable solutions for transport, business, and consumer needs to reduce climate emissions and to improve air quality. Neste is the world's largest producer of renewable diesel refined from waste and residues, and is now also focusing on developing renewable solutions for the aviation and plastics industries. Neste is also a technologically advanced refiner of high-quality products from crude oil. Neste aims to be a reliable partner with widely valued expertise, research, and sustainable operations. In 2018, Neste's revenue stood at EUR 14.9 billion. In 2019, Neste placed 3rd on the Global 100 list of the most sustainable companies in the world.
[Visit Site]
Ohm Energy Technologies, Inc. provides energy-conscious products for commercial, industrial and residential applications.
We are committed to reducing energy costs and consumption, and extending the longevity of energized equipment, with the global vision of conserving our natural resources. We believe the steps we take today determine the sustainability of the world we will share tomorrow. Integrating energy efficiency equipment in every home and business is a vital way we can all contribute toward a cleaner, greener environment.
[Visit Site]
Since its founding in 2011, OPUS ONE SOLUTIONS has enabled utility partners to gain visibility into electricity distribution systems, to identify system constraints in planning and operational timeframes, and to manage & optimize DERs to alleviate those constraints. Opus One's platform, GridOS, is successfully deployed by utility partners across Canada and the U.S.A.
[Visit Site]
PIKA ENERGY is accelerating the world's transition to clean energy by building products that make it simple and efficient to store solar power. We offer a seamless energy platform, the Pika Energy Island™, which connects solar and storage to your home and the grid. Our system intelligently allows home and business owners to capture, store, and utilize more solar energy on-site; offering protection from rising and changing energy costs and grid disruptions.
[Visit Site]
Featured Exhibitors

Burns & McDonnell
Hawaii Energy Policy Forum
Carbon Lighthouse
Johnson Controls
DOE Western CHP TAP
Neste
Eaton
Ohm Technologies
Elemental Excelerator
Pika Energy
Gridworks
Powin Energy
Hawaiian Electric Companies
PXiSE Energy Solutions