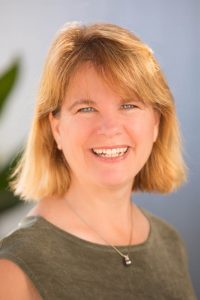 Tricia Rohlfing, Vice President of Finance, Hawaii Pacific Solar
What is your favorite memory from prior versions of this conference?
I enjoy the lively debates among panelists.  I can recall one particular panel discussing the future of battery storage where panelists had very different takes on how that might look.  Those differing opinions are important for everyone to hear and contemplate, especially those setting policy.
People talk about an "energy transition".  What do you think we are transitioning to and how long will it take?
I think about the transition to renewable energy and away from fossil fuels.  The generation side of that transition (utility scale wind/solar, DG, etc.) is relatively easy and generally seamless to users.  I believe the transportation transition is much more challenging and will take longer, but I have no guess on the timeframe!
Is this the best place to learn about the energy scene in Hawaii? 
Absolutely!  I have attended several other Hawaii conferences, but this conference is a gathering of key people from the utility, government officials as well as folks from the private sector, such as developers, contractors, engineers, renewable energy attorneys, and others.  This conference is a great place to meet these people and learn about the current state and future vision of Hawaii's energy.