Renewable Energy/Utility Consultant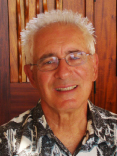 Education & Experience. Sebastian J. "Bash" Nola brings more than 45 years of experience in the energy industry to the conference. Nola earned his bachelor's degree in electrical engineering at Santa Clara University and a master's of science in electrical engineering from the University of Southern California. He spent 31 years of his career in key management positions at the Southern California Edison Company, the third largest investor owned electric utility in the nation. Today, Nola serves as an independent consultant to the wind and renewable energy industry and has been involved in the development of Hawaii's first wind generating facilities.
Nola consults for Blue Planet Foundation has participated in the State of Hawaii Public Utilities Commission's Reliability Standards Working Group and in Hawaiian Electric Companies' Integrated Resource Planning Process as a PUC nominated Advisory Group member. He lives in Upcountry, Maui, and is a licensed professional engineer.
What do you hope this Energy Conference will accomplish? This conference is the first step in establishing a dialogue between utilities and stakeholders as to what the "Electric Utility of the Future" will look like and the path to be taken while addressing the challenges and opportunities in moving to a potential new paradigm.
What is your vision for the future of energy? The future of energy supply, distribution, and utilization for the State of Hawaii will hinge on our success in reducing/eliminating the use of all fossil fuels and moving to an indigenous renewable energy future.
Why do you think it's been challenging to transition from fossil fuel generated power to alternative renewable energy? The challenges in transiting from fossil fuels and integrating increase utilization of renewable energy resources will be the phase retirements of existing fossil generation, grid modernization to accommodate renewable resources, including being "smarter" in grid operations and customer knowledge and choice.  The grid is changing from a uni-directional supply to source use to bi-directional supply/use with an increase in utilization of customer generation and distributed energy resources.  The grid needs to adapt in a cost effective and efficient manner.
Hawaii has the highest electric rates in the United States. How do you think this should be addressed? The key factors in addressing this issue lies in the reduction/elimination of volatile priced fossil fuels and increasing the penetration of renewable energy resources for the purpose of providing energy independence for the State of Hawaii, energy security, and reduced and/or stabilized rates for all customers.  Steps to improve efficiency of utility operations and prudent cost management while allowing our State utilities to earn a fair rate of return for their investors and/or stakeholders must be part of the equation.
Why do you believe it's important to have open and frank discussions about the future of energy? A robust dialogue will allow the conference participants to explore options, challenges and opportunities not only for our energy future, but the future viability of our utilities.  In doing so, the conference planners hope to create action and implementation in forging a win-win for the State's utilities and their customers.