The Hawaii Energy Conference (HEC) attracts energy industry leaders from Hawaii, the Continental U.S., Asia-Pacific and more to exchange ideas on how to better serve our communities in today's rapidly changing power generation and delivery environment.
LEARN from thought leaders on how to better serve the community in today's rapidly changing power generation and delivery environment.
CONNECT and collaborate with networking opportunities — forge partnerships to address common issues and concerns
SHOWCASE your products and services and generate new business opportunities through sponsorship and exhibiting.
"There was a clear message of the need for engagement and empowerment in our communities at the 2023 Hawaii Energy Conference. Beginning with our first keynote speaker, youth climate and disability activist Daphne Frias, the conversation addressed equity and inclusion. Many of the panelists in the different energy sectors acknowledged the importance of all voices being heard and included in our energy solutions. This is the most holistic way of moving forward to achieve our goals."
Jacqui Hoover, HEC Program Committee Chair; Executive Director and COO, Hawaii Island Economic Development Board (HIEDB); and President, Hawaii Leeward Planning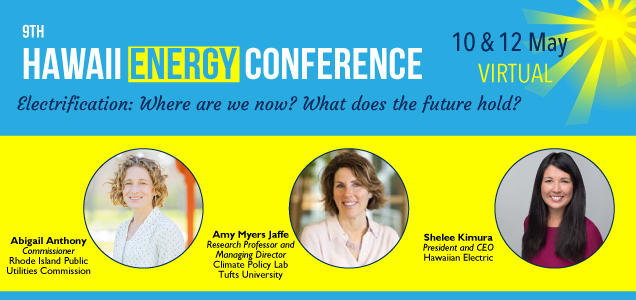 The 9th Annual Hawaii Energy Conference will feature two keynote speakers to headline each of the days of May 10 and 12 as it explores the theme "Electrification: Where are we now? What does the future hold?" The conference will open with Abigail Anthony,...