Energy leaders agree Hawaii can lead changes in energy landscape. Maui conference participants impressed by open and frank discussions.
The buzz that came from the Maui energy conference was that the three-day conference of leading energy experts, industry leaders and activists was Hawaii's "postcard to the future."
"This doesn't end here. It's a beginning, not an end," said Mayor Alan Arakawa, who delivered opening remarks. "We're excited to see where all the conversations that began at this conference go, and how participants will take away what they've learned or shared and lead us into a bright, sustainable energy future."
"The conference exceeded my expectations," said Maui Economic Development Board President and Chief Executive Officer Jeanne Skog. "It's now very clear that we all need to work together to find ways to overcome the challenges and make the most of opportunities available as our nation makes a transition from power generation from fossil fuels to renewable energy."
"We thank all of our outstanding speakers, our co-sponsors, exhibitors and everyone behind the scenes that helped make this a very successful event," Skog said.
"Electric Utilities: The Future Is Not What It Used To Be" was held March 26 and 27, 2014, at the Maui Arts & Cultural Center. Many of the conference participants spent the event's third day on Friday touring the Kaheawa Wind Farm, hosted by First Wind; orienting themselves on the topic of "Energy Through Agriculture" at the Hawaiian Commercial & Sugar Company field and factory; and learning about the Smart Grid Demonstration Project called JumpSMARTMaui, led by Hitachi Ltd. and NEDO.
The conference, presented by the Mayor's Office of Economic Development and the Maui Economic Development Board, featured more than 250 recognized policy-makers from state and federal government and the private sector. They talked openly and frankly about the country's rapidly changing energy landscape and its implications for power utilities, policy-makers and consumers. At least half of the conference participants reside on Maui, and the other half traveled from the U.S. Mainland, Canada and Japan.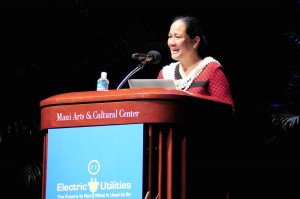 Program Committee member Jonathan Koehn said he was "incredibly impressed" by the recognition of the transformation taking place in utilities and a focus on opportunity and vision for the future. "It doesn't matter where we're starting from, it's the evolution of the energy business model that is essential and we all can explore the opportunities together," he said.
"These are the visionaries," he said about the participating policy-makers, government leaders, legislators and top executives of the utilities and renewable energy companies. "To me it's a great partnership and spectrum that came here," said Koehn, the Regional Sustainability Coordinator for the City of Boulder, Colo.
Molokai businesswoman Barbara Haliniak, who serves as president of the Molokai Professional Women's League, said she was initially skeptical about the conference and concerned that speakers and conversations would be of technical nature.
"I'm so glad it wasn't so technical that I couldn't understand," she said. Her takeaway from the conference: "In order for the utilities and renewable energies to move forward, the entire community needs to engage in dialogue. That's the only way you are going to get where you want to go. … You can't be one-sided."
Arlan Chun, senior vice president of development and construction for Pulama Lanai, said the conference was helpful for him and his organization's goals in seeking sustainability for the people of Lanai. "I think it opens our eyes to some of the issues we're going to be facing," Chun said.
Steffes Corporation, a manufacturer in the oil industry, was one of about 20 exhibitors at the conference. Al Takle of Steffes Heating System said he found networking with the top leaders in energy policy and outlook to be most helpful at the conference. As far as the prospects of the future in energy, Takle said: "The rest of the world is watching the Hawaiian energy market as they navigate this transformational change."