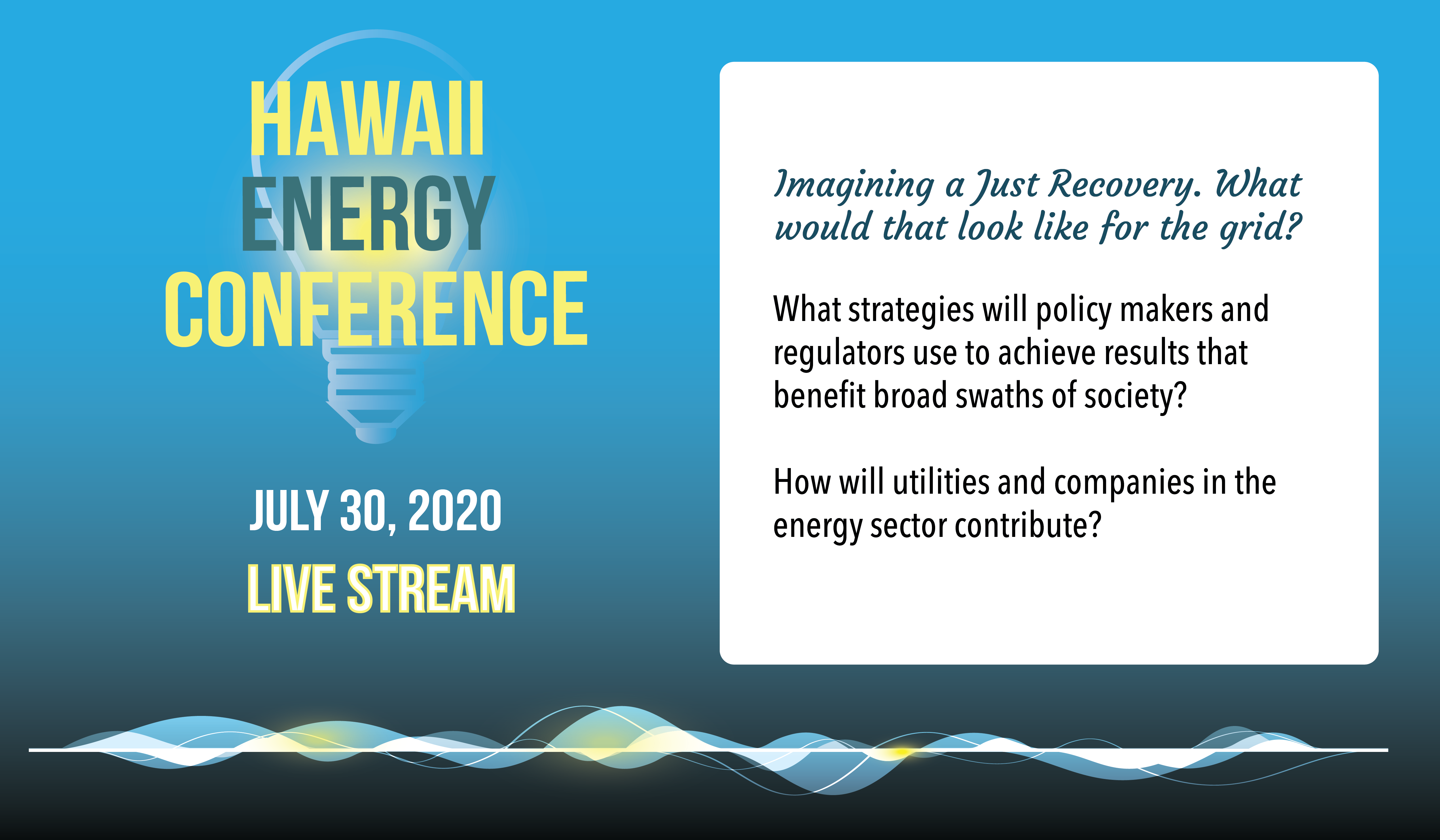 The 2020 Hawaii Energy Conference airs this week with the live streaming of the three-hour event on July 30.  Postponed in March due to COVID-19, the free event starts at 9am HST and will feature industry experts discussing how the energy sector can and should respond to our current challenges by creating a "just" electrical grid.
Addressing the theme, 'Imagining a Just Recovery. What would that look like for the grid?' keynotes and panel discussions will answer the questions — What strategies will policy makers and regulators use to achieve results that benefit broad swaths of society?  How will utilities and companies in the energy sector contribute?
"The Hawaii Energy Conference has regrouped at a critical time for Hawaii and our country," said Jennifer Potter, Commissioner with the Hawaii Public Utilities Commission and member of the conference program committee. "The incredible macroeconomic stress and individual financial burdens are reverberating across our nation and there is no greater time to have meaningful dialogue on affordability and equity. Building a recovery plan that is inclusive of all socioeconomic groups is imperative."
Scott Seu, the President and CEO of Hawaiian Electric, will open the live stream conference with a Keynote titled "Why Energy Equity Matters… Especially to the Electric Company."
The program includes four panels plus brief video presentations with important information related to the theme.  Hawaii Clean Power Alliance will present "The Macroconomics of Change" and Ulupono Initiative's video presentation will be on "Why We Should All be Talking More About Performance Based Regulation."
"The Hawaii Energy Conference provides a vital service to our state by convening policymakers and stakeholders to discuss our energy future," said Murray Clay, President of Ulupono Initiative. "As we all work together to help Hawaii stabilize and recover from the COVID-19 pandemic, it is especially important to embrace innovative technology, policies and regulation within the renewable energy sector, which will help protect our natural environment, shielding our island state from volatile world fossil fuel markets, strengthening its overall resilience, and aid in its economic recovery."
The panel "COVID and the Commissions" will provide a comprehensive overview of how four state Commissions have been tackling the response to COVID in their jurisdictions. Moderator of this panel, Jennifer Potter, explained, "The Commissioners represent states that have displayed innovation in their approach to keeping the utility services intact, addressing affordability during the pandemic, and strategies to evolve the regulatory stakeholder processes to accommodate remote participation."
The other three panels are:
Solar Jobs – Being Part of the Solution? — The Executive Director of the Hawaii Solar Energy Association leads a discussion of how jobs in solar and other parts of the "clean" energy sector can contribute to a Just Recovery.
Develop With Us, Not For Us — This panel will welcome both policy and pragmatic perspectives centered on how to design and develop WITH and not just FOR communities. Panelists will discuss how societal harms exacerbated by ill-informed energy development can be remedied through co-creative clean energy design.
Leadership Toward a Just Grid — As we embark on the path to "build back better" following the pandemic, our energy systems should be designed with resilience in ways that ensure equity. This panel will discuss emerging efforts aimed at bending the arc towards vulnerable populations now, not as a last resort.
The Hawaii Energy Conference, presented by Maui Economic Development Board (MEDB) and supported by the County of Maui Office of Economic Development, serves to exchange ideas on how to better serve customers in the Islands' rapidly changing energy environment. Attendees will be able to network with each other through a conference browser app as well as access resources provided by sponsors through the virtual Exhibit Hall and digital swag bag.
Participating sponsors are: Hawaii Clean Power Alliance, Hawaii Natural Energy Institute (HNEI), Ulupono Initiative, Hawaii Energy, Hawaiian Electric, Powin Energy, Progression Energy, 174 Power Global, Burns & McDonnell, Dudek, Elemental Accelerator, Greenlots, Kauai Island Utility Cooperative, OpusOne Solutions, Par Hawaii.
This unique opportunity to hear from industry leaders and innovators has attracted keen interest nationally and internationally. For information on how to register for this free, virtual event and other details, go to https://hawaiienergyconference.com