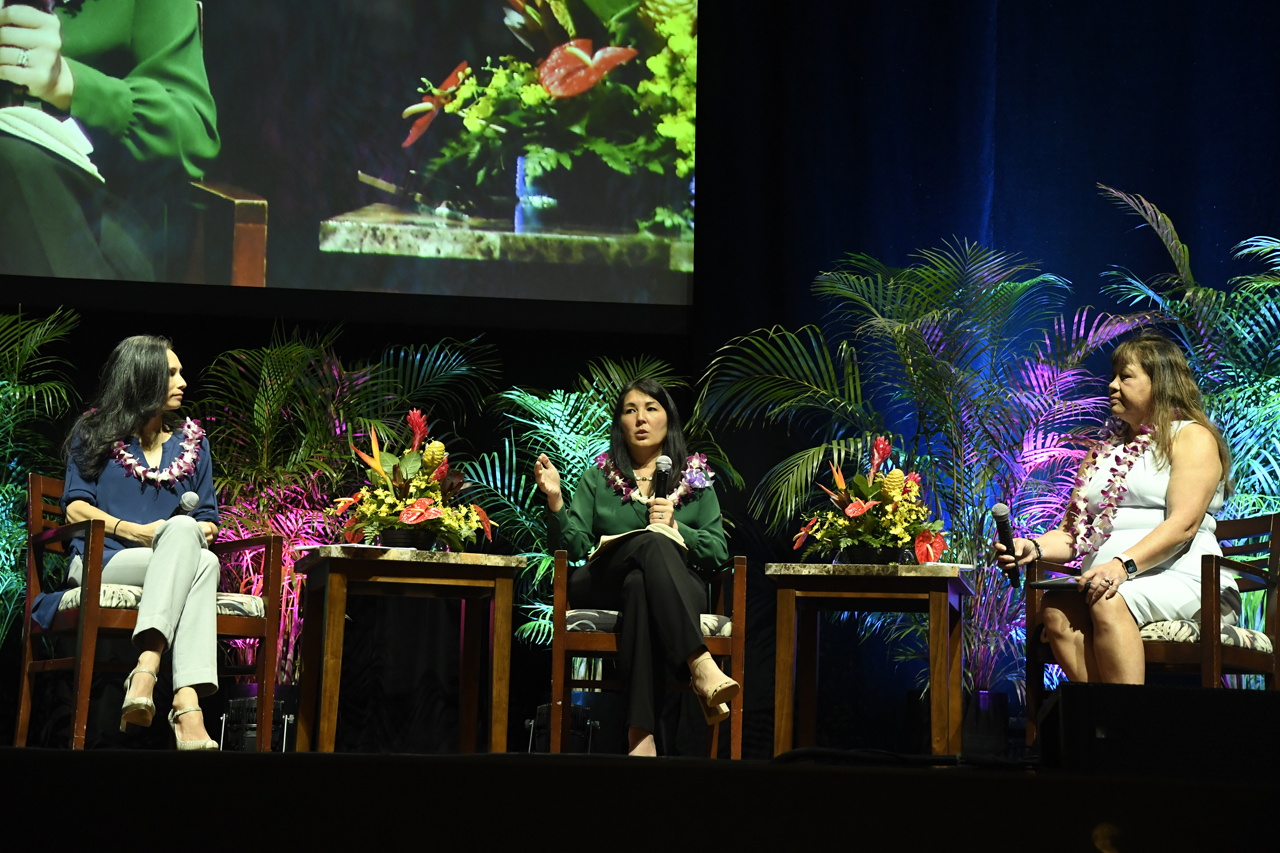 The 2023 Hawaii Energy Conference (HEC) was an exciting event for the 401 attendees interested in sustainable-energy practices and the future of renewable energy. After three years of virtual streaming, attendees from Maui County, neighbor islands, continental U.S., Canada and Japan celebrated the 10th Anniversary of the conference as it returned to the Maui Arts & Cultural Center on May 24-25.
Presented by Maui Economic Development Board (MEDB) and supported by the County of Maui Office of Economic Development, the Hawaii Energy Conference brought together experts in the field to share their knowledge and experiences. Speakers and panelists included energy industry leaders, researchers, entrepreneurs, and county and state-government policymakers.
The conference opened with welcome remarks by Leslie Wilkins, President and CEO of MEDB. "Each panel and invited talk was designed to give attendees the tools, knowledge, and connections they need to make meaningful changes. We have to commit, incentivize innovation, and work together to reach our sustainability goals for a brighter future for Hawaii."
"The Hawaii Energy Conference is more important than ever," said HEC Program Committee Member, Doug McLeod, DKK Energy Services, LLC. "It is clear that meeting in-person is vital to building trust while discussing issues and solving challenges. Permitting, equity, community engagement, and the general pace of reaching our sustainable goals were key concerns discussed this year, and so much more. The responsibility of our energy transition falls on each one of us."
The keynote speaker Daphne Frias, a 25-year-old youth activist from New York, spoke about the importance of including our youth in the energy conversation. Frias also spoke about the innate resiliency of disabled people and how that relates to adaptability and sustainability in the energy sector of the economy.
"About one eighth of the global population is disabled but does not have a proportional voice in the public conversation," explained Frias.  "However, the disabled community has learned to be resilient. They watch out for each other. This translates into how we can deal with climate change."
She continued, "An inclusive infrastructure is close to being a green infrastructure. We should ask how clean-energy mandates work for disabled and disadvantaged communities who are more impoverished.
"There was a clear message of the need for engagement and empowerment in our communities at the 2023 Hawaii Energy Conference," said Jacqui Hoover, HEC Program Committee Chair; Executive Director and COO, Hawaii Island Economic Development Board (HIEDB); and President, Hawaii Leeward Planning. "Beginning with our first keynote speaker, youth climate and disability activist Daphne Frias, the conversation addressed equity and inclusion. Many of the panelists in the different energy sectors acknowledged the importance of all voices being heard and included in our energy solutions. This is the most holistic way of moving forward to achieve our goals."
"Having conferences like the Hawaii Energy Conference where we can talk-story helps us to drive legislation that will execute sustainability and renewable energy," said Senator Lynn Decoite, State of Hawaii, who spoke on a panel on Recent Activity in the Hawaii Legislature. "The legislators need support. We need to see ourselves 10-20 years from now and commit to our sustainable future."
Keynote Speaker, Daphne Frias, a 25 y.o. activist from New York, kicked off HEC2023
L. to R. Alicia Moy, Hawaii Gas; Shelee Kimura, Hawaiian Electric; Jacqui Hoover, HiEDB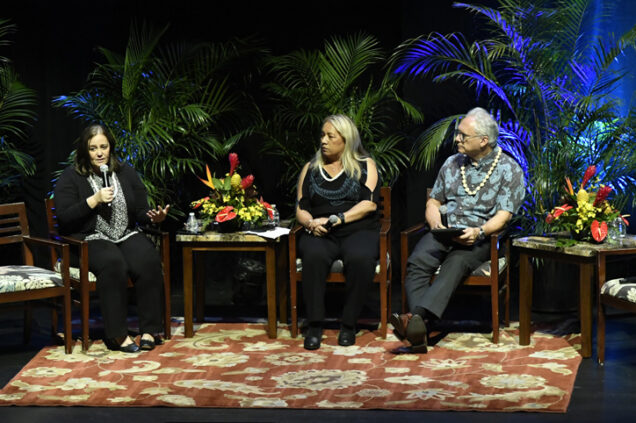 L. to R. Rep. Nicole Lowen, Senator Lynn Decoite; Mark Glick, Hawaii State Energy Office
Day 2 began with Shelee Kimura, President & CEO of Hawaiian Electric, and Alicia Moy, President & CEO of Hawaii Gas, who discussed "Sharing Our Visions, Opportunities and Challenges in the Energy Industry." Moderated by Hoover, the conversation included a look at the importance of diversity in the energy sector, including leadership.
"The true message of the conference this year was that we have to look at our issues holistically, by listening to all voices and hearing new perspectives," said Hoover.
Hawaiian Electric hopes to adopt the 2030 aspirational goal to reduce our carbon emission by 50 percent in the state's economy and by 70 percent in the electricity sector. Hawaii Gas's long-term plan is intended to help Hawaii reach our 100-percent renewable-energy goals by 2045.
Kimura explained, "Our individual paths are unique, but when we frame them together, which we must now, we can get things done. We are both working to get clean-energy projects permitted, interconnected, and operational in a reasonable amount of time. Hawaii Gas is an important part of that."
Moy added, "Shelee and I have bonded over Hawaii's energy solutions, especially for the future of our next generation. I feel that there has been a shift. Once there was that competition, but now we know our future depends on working together."
The Hawaii Energy Conference addressed three main focus areas: community engagement as we move toward our 2045 goals; whether we are moving fast enough toward these goals and whether they are realistic; and new tools and technology for future energy generation and distribution.
In her closing remarks, Leslie Wilkins, remarked on the high representation of women at the 2023 Hawaii Energy Conference. "Ten years ago when the Hawaii Energy Conference began, women were significantly underrepresented in the energy sector. This year, we have women leading in policy, utilities, as developers, conference leaders, and so much more. There is no question that women are bringing their leadership into the energy-industry sector and it is making it stronger."
In addition to the general sessions, the conference also provided networking opportunities for attendees. There was high energy in the exhibit venue with attendees relishing the opportunity for face-to-face connections after three years of virtual programming. Participating sponsors showcased the latest renewable-energy technologies and services during breaks and the networking reception.
"The Hawaii Energy Conference is great because it brings everyone from all the different energy sectors together," observed Jim Kelly, VP Government and Community Relations and Corporate Communications, Hawaiian Electric. "Reconnecting in-person with others in the industry after so many years is key to moving forward with our energy transition. We need in-person events like the HEC to discuss everything that is essential towards our renewable goals."
Kenzie Judson of Institute for Integrated Energy Systems, Canada remarked, "I have enjoyed being at the Hawaii Energy Conference. I was surprised to learn that a small island and a huge entity like Canada are considering a lot of similar solutions."
The 2023 Hawaii Energy Conference was sponsored by Johnson Controls, Ulupono Initiative, Hawaii Natural Energy Institute (HNEI), FranklinWH, Hawaiian Electric, AES, Ameresco/Bright Canyon Energy, Aukahi Energy, Brookfield Renewables, Burns & McDonnell, Hawaii Energy, Par Hawaii, Aloha Charge, Generac Power Systems, Hawaii Gas, Hawaii State Energy Office, Kamehameha Schools, Kauai Island Utility Cooperative, Moss & Associates, Osmose Utility Services, RE+ Events, Sol-Ark, STEM Energy and Sunrun.
"The Hawaii Energy Conference is important for us because Kamehameha Schools are very involved with renewable-energy projects on Maui, Oahu and the Big Island. Therefore, renewable energy is an important topic for us," said Dana K. N. Sato, Director, Leasing & Transaction, Kamehameha Schools. "In general, all of our students are being educated about sustainability, good environmental practice, and aloha 'aina. It is part of our cultural identity to take care of our environment."
"This is my first time at the Hawaii Energy Conference," said panelist Kirstin Punu of AES Hawaii and representing Women in Renewable Energy (WIRE.) "I have made so many connections and have received so many ideas from my peers in the industry. The conference provided a synergistic approach to having conversation, a shared sense of urgency behind the energy issues. I think the programming has been phenomenal and engaging."
The final networking opportunity was co-sponsored by WIRE, a non-profit organization in Hawaii that brings together women from all sectors of the energy industry to have open and trusted conversations. Many were already looking ahead to returning to the MACC for the Hawaii Energy Conference in 2024.
 "I was surprised to see how many different folks from different parts of the world have come to the Hawaii Energy Conference to talk about energy," observed Zendo Kern, Director of Planning, County of Hawaii "Plus, they did not just complain; there was this consistency of here's what we have to do, here's our goals, here's our challenges, and here's some of our solutions."
Kern concluded, "The Hawaii Energy Conference was well organized and kept building on itself from the community engagement theme, to permitting, and to planning what's next. I found the conference insightful, engaging, and, ultimately, fun."
Exhibitors and Attendees enjoy the opportunity to network face-to-face at the 2023 Hawaii Energy Conference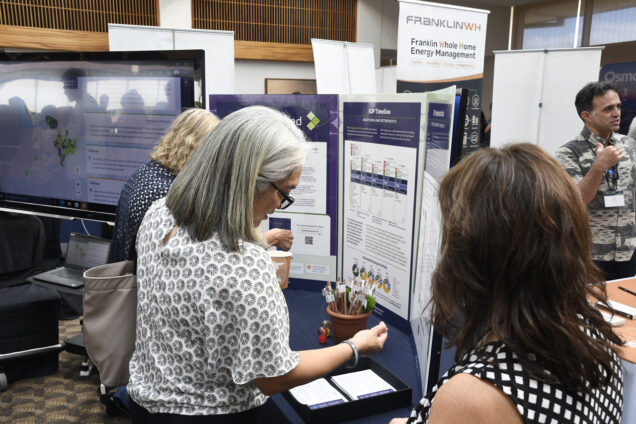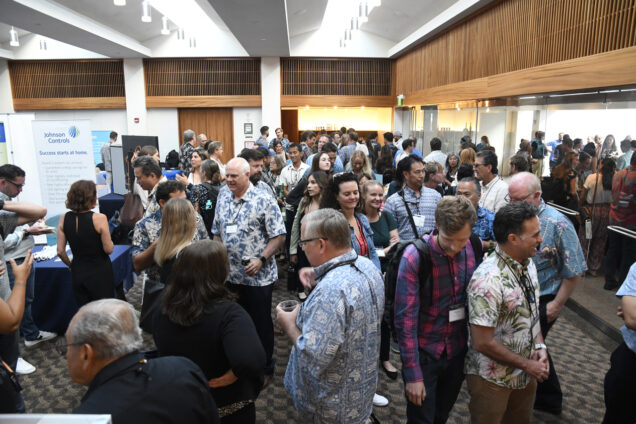 SUMMARY OF PANELS AND INVITED TALKS
FOCUS AREA 1: COMMUNITY ENGAGEMENT AND EMPOWERMENT
In Hawaii, there is a long history of working together on important issues: no task is too big when done together by all (a'ohe hana nui ke alu'a). The first three panels explored the energy transition and asked whether the process is working as hoped.
PANEL 1 | EMPOWERING RESIDENTS: COMMUNITY-ENGAGED APPROACHES TO RENEWABLE ENERGY
From Molokai's recently approved community-based renewable-energy project to a new participatory budgeting model to determine community benefits, Hawaii is attempting new ways of engagement.
"Community engagement is important to help us all reach our sustainable energy goals," said moderator Murray Clay, President, Ulupono Initiative. "At Ulupono, we find that social infrastructures are as important as technical infrastructure in demonstrating all the possibilities of renewable energy."
Leilani Chow, Energy Program Manager, Sust'āinable Molokai contributed, "Our Molokai Action Plan would increase the island's renewable energy, including sustainable emergency preparedness capabilities, and strengthen infrastructure. On Molokai, we agree that we need to be drivers of our destiny as a community to shape growth that aligns with our cultural values. Our community self-determination, initiative, and organization matter. Even if there is a lot of land available, we do not want to compromise our living environment."
"When we look to enhance a community-driven process, at least 40 percent of benefits need to flow down to disadvantaged communities," added Mark Glick, Chief Energy Officer, Hawaii State Energy Office. "There needs to be an alignment of interests between developers and residents, and shared responsibility."
Vice President of Resource Procurement, Hawaiian Electric, Rebecca Dayhuff Matsushima said, "The local community knows their own needs and constraints the best. In community engagement, you are dealing with many competing interests, such as housing, food, and transportation, in addition to energy. This makes it hard to hear the collective voice, given that we always have vocal individuals."
"I'm mainly concerned with utility-scale solar projects, where no community support means no project," explained Nicola Park, Director, Hawaii, Clearway Energy Group. "Challenges in community-led projects require communication with all stakeholders, including residents. In considering the trade-offs between renewable energy and new housing, the community often favors renewable energy projects. In the future, electric bills will go up. However, the increase will be less than the cost of what other options would have been."
INVITED TALK | IDEAS FOR HOW MORE PEOPLE CAN BENEFIT FROM ENERGY EFFICIENCY AND SOLAR ENERGY
Caroline Carl, Executive Director, Hawaii Energy and Robert "Rocky" Mould, Executive Director, Hawaii Solar Energy Association shared the stage for a 15 minute presentation.
"At Hawaii Energy we focus on making energy-efficiency education and clean-energy initiatives more accessible and more affordable to Hawaii families and businesses," said Carl. "Customer-sited rooftop solar leads Hawaii's renewable-energy transition. We remain tasked with accelerating energy-efficiency and clean-energy technologies by raising awareness and inspiring action. There are 489 appliances provided through our Appliance Trade-up Program. Through our EmPOWER Grant from 2020-2022, there have been significant customer bill savings and grant dollars distributed."
The Hawaii Solar Energy Association works with industry, regulators, policymakers, and other stakeholders to drive Hawaii's clean-energy transformation, create green jobs and provide resilient alternatives. Mould said, "Customer roof-top solar presently leads Hawaii's energy transition. There are about 100,000 residential installations statewide. This accounts for 50 percent for all renewable installations in Hawaii. However, with the highly variable number of permits over the years, we have a 'solar-coaster' effect that needs to be evened out," he warned. "Together, we need a collaborative partnership of stakeholders harnessing all the available resources.
PANEL 2 | RECENT ACTIVITY IN THE HAWAII LEGISLATURE
Attendees were brought up to date on the work of Hawaii state legislators with panelists Senator Lynn Decoite and Representative Nicole Lowen. Moderated by Mark Glick, Chief Energy Officer, Hawaii State Energy Office. Discussions centered around whether they have solutions to allow more participation by the community in energy decisions, or whether they have answers to the high cost of electricity.
"Of great importance is the sensitivity to the overall economic and cultural needs, as well as the desires, of the people throughout Hawaii," said Glick. "We are essentially disparate from the continental states, and we need to work together on a lot of initiatives."
Senator DeCoite, who serves as the Chair on the Hawaii Senate Committee on Energy, Economic Development, and Tourism, said "We need to involve the community residents in legislative sessions and debate, beyond just testifying. We need to figure out what happened last session and engage specific legislators who stalled bills on issues of concern."
"In addition, we want to make sure the average person can participate in the transition. Solar roof tops are difficult to obtain for the average person. For this reason alone, it is critical to have powerful legislation."
Representative Lowen is the Chair on the Hawaii House Committee on Energy and Environmental Protection. She commented, "The key policy objectives are very diverse. However, we are not the biggest player in resolving these issues, so much depends on the technology that becomes available. The legislature can do straightforward things like setting efficiency standards for appliances and phasing out old-style fluorescent lighting in favor of LEDs."
"Clean-energy legislation such as SB 691 can be read online at https://www.capitol.hawaii.gov.," Lowen continued, "Personally, I think we need to be less attached to individual bills and more attached to the problems that need to be solved. Resilience, affordability, reliability, all of the above, are critical issues, but the legislature is not the biggest player in this issue. Energy independence is so important. We need to focus on what the next steps are that will help facilitate a just and equitable transition."
PANEL 3 | COALITION BUILDING AND NEW IDEAS
Jonathan Koehn, Director of the City of Boulder Climate Initiatives Department and a member of the HEC Program Committee returned to Maui to moderate this panel to discuss some of the new ideas from Hawaii and beyond. "We need to include everyone in an 'energy democracy' with new policies and coalitions to design an inclusive energy system," he stated. "We have to think collectively on how to reach our energy goals through new policies and coalitions. Also, we need to think creatively for a more holistic approach to protect the most vulnerable.
Panelist, Forest Frizzell, Co-Founder & CEO, Shifted Energy said, "With nearly half of Native Hawaiians no longer able to live in Hawaii, we have a once-in-a-generation opportunity to replace imported fuel with renewable energy. This will bolster our local economy and job market long-term to keep our residents from leaving.
"If we want economic resilience in Hawaii, we need to take advantage of the opportunity to level the playing field for local companies. Smaller companies also need to be able to participate in clean-energy opportunities."
"Technology brings half the solution for energy transition," said Dawn Lippert, Founder & CEO, Elemental Excelerator. "The community brings the other half. That is why I encourage new companies to invest in community, especially low-and-middle-income families.
"Energy is an important issue for a healthy and affordable lifestyle. I think this is where we can be innovative: How do we do cooling better? How do we do better filtering and make people feel comfortable? We have to be much more creative. Air-conditioning is a huge issue for wellness. This is an opportunity for technology advances in that area of expertise. A dollar of investment for energy-efficiency goes further here in Hawaii because of our higher energy costs.
"We should be more competitive and work more strategically with alignment in all aspects and sectors. Now, more than ever, we are in a competitive place for technology resources. We need to be learning as fast as we can. Start-ups are key."
Stephany Vaioleti is a Community Engagement Navigator with Hawaii Energy. She said, "Companies need to figure out how to collaborate with competitors in order to achieve energy transition by 2045. We have competing priorities, so conflicting values are an issue. Our Energy Equity Hui, a statewide government-nongovernment collaborative, is working to ensure equitable transformation in our clean-energy goals. We must create a pono path with stronger, equitable outcomes through values, trust, partnerships, increased education, transparency, and economic development."
INVITED TALK | LOCAL WORKFORCE NEEDS
In another 15 minute segment, two presenters discussed managing local workforce needs.
Damien Kim is the Business Manager/Financial Secretary for International Brotherhood of Electrical Workers (IBEW) Local 1186 who spoke on how the IBEW Apprenticeship Program is teaching participants to help the workforce stay up to date on our energy needs.
"Orientation into an electrical program takes about five years. Workers make about $19 an hour and can make $112,000 a year, plus benefits like health care, a pension, and more. It is a great program with minimal tuition, paying students while they learn their skill. There is no school debt. Currently, we have about 400 participants in our program statewide. We bring about 50 more each year. We are always searching for people who want to work hard and grow."
Kim continued, "Today's challenge of getting a good workforce is finding the people with the right attitude, common sense, and good work ethics. We are working with schools and career-path programs, such as engineering, architecture, and others, to find talented students and enter them into our program. We also look for soldiers coming out of the military to help them find good paying jobs. Bottom line, we are trying different ways to create and recruit to keep our local people here. With good careers, they can live and thrive in Hawaii."
Danielle Irwin is President of Makaha Learning Center, a native 501(c)3 non-profit that was started to create opportunities for Native Hawaiians through leadership, trade-training education, and outreach programs. She said, "The renewable-energy transition will completely change our landscape, our economics and the way we do business, like it happened with the sugar cane industry. We had to import people from all over."
"I would like to challenge us to make sure, before it is too late, to educate a workforce that is local. Historically, Hawaii has been good at exporting resources and importing expertise, which is why I think workforce development has high payoff in this state.
"We have been able to educate over 200 students specifically in solar industry jobs, including general construction, renewable energy, electrical apprenticeship, and photo-voltaic technology.
A career in solar can be extremely lucrative, and we can adapt quickly to changes in the energy industry."
FOCUS AREA 2: ARE WE MOVING FAST ENOUGH?
Islands, and other areas subject to extreme weather events, need more resilient energy systems. Is progress too slow? Are the goals realistic?
PANEL 4 | PROJECTS PERMITS: HOW ARE THEY AFFECTING HAWAII'S TRANSITION GOALS?
Jacqui Hoover, Chair, Conference Program Committee moderated this panel. "We discussed whether permitting policies and rules even make sense. Our homes all need energy. What happens if we don't meet our 2045 goals? How can we all participate in the permitting process so it benefits everyone? How much do permitting interventions interrupt the process?"
"Everyone wants certainty in the permitting process, said Kathleen Aoki,Director of Planning, Maui County. "Developers, community members, environmentalist, and others all want to know what, where, and how their projects will happen.
"We are in the process of rewriting our zoning code; many things need to go, and our land-use ratings are outdated. It is a tradeoff on what our priorities are" Aoki continued, "Pre-planning by developers with communities and others affected can reduce interventions during the permitting process. We need unity and collaboration in planning projects. Finding inclusive solutions is vital."
Gary Huffman, Senior Client Relations Manager, Burns & McDonnell Engineering contributed,
"The permitting process outcomes can be very different in different states and in different counties in Hawaii for the same project. Hawaii has achieved rooftop-solar penetration that is larger than any other state and yet Hawaii's permitting is slower than other states."
"The speed of receiving permits depends on how much the developer and investors put into it. It is simple if you check all the boxes, including working within the community through outreach, education, hearing their concerns, and explaining what it is in the project that can benefit the community. All stakeholders must collaborate."
"Applicants for permits want certainty," said Zendo Kern, Director of Planning, County of Hawaii. "The community also needs certainty that previous work and their values are being honored. Permitting is a necessary part of planning projects because it improves the reliability of projects. Rooftop single-home solar projects should be instantly permitted."
Mahina Martin, Chief of Communications and Public Affairs, County of Maui Office of the Mayor said, "We are at a critical point where we have to make quicker decisions about taking Hawaii forward in clean energy. We should recognize that health care facilities and nursing homes need energy. We are facing a reflective time with tradeoffs for our safety, health, and environmental protection."
"Permitting is just part of the process," Martin concluded. "Culturally, communities want to slow it down, while investors want to speed it up. We have a kuleana in Hawaii to our 'aina, which sometimes clashes with big infrastructure."
Jordan Molina, Director of Public Works, County of Maui, said "I have been on all sides of the permit process and have a sense of empathy to all parties that need to go through this process. There is a way through it; however, we need to be partners to make it succeed. In general, the quality of submissions should be better. It is important to put the effort in at the front of the project to get the best results without having so many interventions during permitting.
PANEL 5 | WHAT DOES THE DATA SAY?
Celeste Connors, Executive Director, Hawaii Green Growth moderated this panel to review the different 100-percent goals involving renewable energy, carbon, and sustainability. "It was essential to discuss whether we are on track for 2045 in context of other priorities like housing, education, wellness, and others. Two-thirds of imported oil in Hawaii goes to transportation."
Connors pointed out, "We want 70-percent reduction in carbon emissions by 2030 and 40 percent of energy production from renewables by 2030. At this point in time, Hawaii's goals pre-date even the United Nations' Sustainable Development Goals.
Greg Gaug, Senior Vice President, Investments & Analytics, Ulupono Initiative, said, "Electrifying ground transportation will result in 50-percent reduction in carbon emissions. It is vital to understand the importance of tradeoffs and benefits associated with adding more renewable energy to electric systems, and the potential impact on agricultural land. We must always preserve high-quality ag land and the lowest electricity rate, with less or no offshore wind-generation.
"Ninety percent of our food in Hawaii is imported. If we are concerned about sustainability and self-sufficiency, we have a trade-off of land for renewable-energy generation. We need to both increase our renewable energy production and our food production.

President & CEO of Hawaiian Electric, Shelee Kimura, said, "The renewable fraction of energy produced in Hawaii has gone from 9 percent in 2010 to 32 percent today. We need to execute projects quicker, which means better cost-effectiveness because electricity demand will double by 2045."
"We must consider pathways to cut carbon emissions to achieve net-zero in electric power generation by 2045, in all sectors. Also, additional carbon-dioxide removal is needed to offset residual non-CO2/non-combustion emissions. Data shows the path to the goals. Over the next seven years, we need to get to 70 percent."
Mahina Paishon-Duarte, Co-founder and Executive Officer/Managing Partner, Waiwai Collective said, "We need to have partners early-on to identify the hardest equity issues by creating a roundtable for everyone to contribute. Using a Malama Implementation Tool, a comprehensive project assessment tool to support partners in project development efforts, we can prioritize locally relevant measures of success."
"Scoring well with this tool will indicate our achievements towards Hawaii's statewide sustainability commitments. Measuring it against the Aloha+ Challenge Dashboard, we can identify relevant goals and metrics indicating Hawaii's progress toward achieving the United Nations' Sustainable Development Goals."
PANEL 6 | DEVELOPERS ROUNDTABLE
This panel featured the most successful developers of our state's largest wind and solar projects to date. They discussed recent challenges and future opportunities in developing and building utility-scale energy projects in Hawaii.
Wren Wescoatt, Director of Development, Hawaii Longroad Energy moderated the panel, stating, "As our state moves toward 100-percent decarbonized power, much of the lowest-cost clean energy will come from large grid-connected renewable projects. These projects are complicated, expensive and sometimes controversial, but they really move the needle in replacing fossil-fuel generation."
"The conversation about climate change, sea-level rise, impact to our state and the part that renewable energy plays in this, is essential. The state and utility have already started campaigns where they are informing the public about possible projects. It is time for real community ownership."
D. Noelani Kalipi, Executive Vice President, with Progression Energy is currently working on a fully offshore wind farm, Aukahi Energy. "Being the first of its kind, our offshore floating wind project had challenges and skepticism to deal with, including triggering every permit imaginable at the federal, state, and county levels in multiple ways."
"It takes a lot to develop in Hawaii," she added. "We put relationships first, and we believe that shared values drive project success. In strategic planning and implementation, you have to envision the impact of a project into the future."
Nicola Park, Director, Hawaii, Clearway Energy Group, said, "Developing can be really challenging, so it's vital to work together for a common goal. Technically, all of us on this panel are competitors and have gone head-to-head on the same projects; however, we are all really good friends. We are on a common battlefield together, going through many of the same challenges, and we actually collaborate when and where we can."
"Collaboration, building trust, and honest communication are key elements in all of our projects. It takes a village!" said Kirstin Punu, Project Origination, AES Clean Energy, Hawaii. "Where there are challenges, there are also solutions. Our current online projects are a very critical component of enabling the responsible and equitable transition we are making across the state."
We encourage community feedback and input often, throughout the planning and permitting process, and we discuss how transition upgrades will benefit the residents."
INVITED TALK | ENERGY EQUITY DOCKET
Stephany Vaioleti of Hawaii Energy returned to the stage to introduce Grace Relf, Chief of Policy and Research, Hawaii Public Utilities Commission, explaining "The Hawaii Public Utilities Commission (PUC) is requesting public input on how the state's energy system can be more equitable. Their new docket seeks to define energy equity and integrate energy-justice practices into the commission's proceedings."
"The PUC is working to improve community engagement and affordability of energy, especially in the home, as electricity rates increase," shared Relf. "Certain populations have been left behind in the renewable-energy transition and we have to correct that. We want our Energy Equity Docket to include public input to assure thriving communities in the face of climate change. Getting out into the community and hearing their ideas is a good way to get more people involved, educated, informed and engaged in our energy solutions. We have posted our meetings related to the docket online, and anyone can provide comment at any time."
FOCUS AREA 3: NEW TOOLS AND TECHNOLOGIES
If we want different outcomes, we may need new tools.
PANEL 7 | USING H2 IN HI
Moderator Julie Yunker, Director of Sustainability, Government and Community Affairs, Hawaii Gas introduced the panel, "Hydrogen has been the new buzz word in the past couple of years. It's been around for a while, but seems to have a recent resurgence with a lot of funding from the federal government."
"Working with Hawaii Gas, we are already transporting hydrogen in blended form with natural gas in pipelines," said Ganesh Arumugam, Senior Materials Engineer, Oceanit. "Currently fossil fuels account for 98 percent of our hydrogen production, and only10 percent goes to transportation and other uses. Most of the hydrogen is used in chemical industry processes."
"However, Hawaii Gas can transport natural gas blends containing up to 15 percent hydrogen and they already have 1,100 miles of pipeline. What remains to be done is to study the effect of enriched hydrogen blends on existing home appliances."
"Hydrogen already has an infrastructure for public transportation," said Mitch Ewan, Hydrogen Systems Program Manager, HNEI. "It is lighter than batteries, has rapid fueling, and a long range of transport. Hydrogen-fueled vehicles are already operating for the general public on the Big Island. Public transportation is the key to hydrogen acceptance. People will become aware that hydrogen is very quiet and odor-free. The only exhaust product is water vapor, although it requires cheap electricity for its production."
Riley Saito, Energy Specialist, County of Hawaii shared the work they are doing on the Pacific Hydrogen Alliance which consists of facilities in Namie, Japan (near the famous Fukushima nuclear power plant); Lancaster, California; and in Hawaii County. "Currently, we are using above-ground pipelines for low-density hydrogen transport," he said. "The Alliance is studying where local county funding matters the most when trying to transport hydrogen on a large scale. Their job is to figure out where the delivery points for the hydrogen need to be, and then let researchers figure out how to produce the hydrogen on a large scale.
"The permitting process is critical to scaling up hydrogen production. Also, commercial and household acceptance is not yet complete. People are afraid of explosions, and they are not aware that hydrogen is a renewable resource, although it requires electricity to produce the hydrogen gas."
PANEL 8 | DECARBONIZATION PATHWAYS: HOW WILL HAWAII ACHIEVE ITS GOALS AND WHAT CAN WE LEARN FROM OTHERS?
HEC Program Committee member Colton Ching, Senior Vice President, Planning & Technology, Hawaiian Electric moderated this panel that discussed how Hawaii's economy can achieve a 50-percent reduction in greenhouse gas emissions from the 2005 levels by the end of this decade and net-zero carbon emissions by 2045. "Decarbonization is an economy-wide problem," Ching began. "We may need to reset the whole economy. Decarbonization targets are hardest to hit in the Hawaiian Electric sector of the economy."
Mark Glick of the Hawaii State Energy Office (HSEO) who was back on stage as a panelist said "We are primarily concerned with energy-efficiency, renewable energy, and clean transportation. The state of Hawaii needs a comprehensive strategy for all of these. The HSEO has to consider energy storage, grid modernization, transportation, electrical generation and other energy production.
"The biggest energy users in Hawaii are air travel, marine shipping, and agriculture. We currently have a study underway to see the extent to which hydrogen may become a near-term solution for ground transportation. We are producing a report on the decarbonization pathway for Hawaii, to be delivered to the legislature by December 2023."
"Hawaiian Airlines has a goal to be net-zero for carbon by 2050," said Alanna James, Hawaiian Airlines Managing Director of Sustainability Initiatives. "Aviation jet fuel is 27 percent of the total petroleum consumption in Hawaii. In the U.S., only Alaska has a higher percentage devoted to aviation fuel. Inter-island flights account for only 11 percent of the aviation fuel consumption, while long-haul flights consume 89 percent. Therefore, most of the work for decarbonization in aviation has to deal with the long-haul flights."
James continued, "The main decarbonization drivers for Hawaiian Airlines are fleet renewal, decreasing fuel consumption; operational efficiencies, using cleaner ground power; and air-traffic control modernization, being done through the federal government. For the short-haul flights, it is possible that next-generation aircraft using new technology might reduce the fuel consumption on short flights. However, this is a very long and expensive technical development.
"About two thirds of Hawaiian Airlines reduction to net-zero decarbonization will come from using sustainable aviation fuel (SAF). The federal government has posed a grand challenge, with funding, to researchers to use non-petroleum sources for aviation fuel production and to modify existing airplanes and infrastructure to be able to use up to 50-percent blends of SAF and traditional fuels.
"We need new policies in place to encourage the production and use of SAF, which is largely a federal government responsibility. Hawaiian Airlines operates in many different states and countries, each with different decarbonization requirements. Therefore, SAF, as it is produced in limited quantities, will go to the markets where it has the most value. Hawaii must compete in those markets."
Amber Mahone, Managing Partner, Energy & Environmental Economics (E3) added, "Hawaii has unique challenges and opportunities for decarbonization. For example, we do not have much space-heating requirement in Hawaii because of the local climate. Also, we have little heavy manufacturing, mining, or refining in Hawaii. However, the technologies necessary for decarbonization are not yet commercialized. Hawaii also has to resolve competing land uses. For example, should we convert more agricultural land for renewable-energy production?"
INVITED TALK | WHAT'S IN THE PIPELINE
Leslie Wilkins, President & CEO, Maui Economic Development Board (MEDB) introduced this presentation on workforce initiatives. "Workforce development is economic development. We are truly transforming the energy-transition workforce pipeline at MEDB to build equity and access to ensure the STEM education pipeline is reflective of the true demographics of our state with equity and access for all."
As a Program Officer with University of Hawaii Community Colleges System, Joshua Kaakuais involved with innovative-opportunity workforce training programs for Hawaii residents. He said, "Good Jobs Hawaii is a coalition among the University of Hawaii Community Colleges, businesses, educators, and community partners that will help people in Hawaii get high-quality jobs, while ensuring employers meet their needs for a skilled and local workforce.
"Good Jobs Hawaii offers free skills-training in Hawaii's high-demand sectors, including clean-energy information, skilled trades, information technology, healthcare, and creative industries, which can all lead to more prosperous careers. It is important for students to get involved in this partnership with training providers, universities, employers, and the stakeholders who are involved in making our state's workforce development better."
Katie Taladay, Director of Education and Workforce Development at MEDB talked about MEDB's all-new K-12 Energy Education Curriculum for the Hawaii State Energy Office (HSEO). "This curriculum aligns with the national standards for science. However, when designing this program, we were surprised over the lack of K-12 energy-literacy in Hawaii.
It is essential to have energy-related literacy coming into the college level or we will not produce any energy-related degrees or careers."
Taladay continued, "Every module in the curriculum was designed as hands-on activities to cover every energy-related topic from wind to solar, to geothermal, electricity, smart grid, and more. Every teacher that participated received a tool kit to use in their classroom. The kits are now available on the HSEO website. So far, we have trained almost 200 teachers across the state. In addition, the kits are available in our STEMworks™ Lending Library. Also, K-12 educators can request to borrow a renewable-energy kit by going to our STEMworks website."
RISK AND BENEFITS OF ENERGY STORAGE
Doug McLeod, DKK Energy Services, LLC led this panel that looked at the benefits of energy storage in three separate markets.
"As renewable adoption increases, clean-energy optimization is needed to stabilize the grid," said Ashley Henderson, Principal Program Manager, Stem. "Opportunities to pair energy storage include solar, backup generators and EV charging. Benefits include utility-bill savings; resilience and backup power; flexibility and solar self-consumption; demand charge management; and demand reduction.
"Utilities use storage to defer traditional infrastructure investments and to deliver energy where it's needed. For example, Transmission and Distribution (T&D) Deferral, discharges batteries to reduce peak loads during overload; Resource Adequacy, called by utility to discharge batteries when generation resources are limited; and Transmission Congestion Relief, discharges batteries when locational pricing is high, reducing the need to transmit power into a region or zone.
Joti Mangat, Chief Revenue Officer, Rising Sun shared how VPP (Virtual Power Plants) program offers significant incentives for existing and new energy storage systems powered by rooftop solar.
"VPP home battery reward programs use behind-the-meter smart-energy-activating assets to perform different functions at different times based on the value to the grid and to the home. The 6000-home aggregation of behind-the-meter energy storage into a VPP program provides a total of 81.7 MW of combined grid services with capacity-build during excess renewable-energy generation, capacity-reduce during peak usage, and fast frequency response.
"With intelligent home energy management, value-stacking grid service payments improve bill economics and offer periodic checks for customers with negative bill balances. By harnessing the collective power in our homes, we enable a more affordable and resilient Hawaii that also helps us meet our 100-percent renewable-energy goals."
"Kauai's utility-scale energy is already 60-percent renewable overall, using only short-term energy storage batteries," shared Brad Rockwell, COO, Kauai Island Utility Cooperative. "In West Kauai, we are currently constructing long-term hydroelectric energy storage from a water reservoir which will run a 4MW hydroelectric generator and a planned 20MW generator. We run every sunny day at 100-percent renewable, sometimes 10 hours without fossil fuel, but we still have no solar at night. We need to crack that last nut."
"With this long-term energy storage, Kauai can reach 100-percent renewable and eliminate oil," concluded Rockwell to spontaneous audience applause. "With numerous benefits for the community and state, we are almost there and we are very proud of it!"
WHAT'S UP WITH GEOTHERMAL?
Maria Tome, Managing Director, Energy Efficiency and Renewable Energy, Hawaii State Energy Office moderated this panel that looked at the future of geothermal energy. She was joined by
Nicole Lautze, Founder and Director, Hawaii Groundwater and Geothermal Resources Center; Professor, Hawaii Institute of Geophysics who said, ""Geothermal is potentially a very attractive renewable-energy option. It is relatively inexpensive, has a low footprint on the land, and is available 24/7. It is also dispatchable between certain upper and lower limits, meaning that you can vary the output at a given facility to respond to increased or decreased demand, as needed."
"We have very incomplete data about geothermal resources in Hawaii, even though we have several volcanoes. Surveys are expensive. For example, making a single 5-inch slim hole to a typical depth of 2km would currently cost about $3M. At the moment, no state or federal funding is earmarked for geothermal development."
Michael Kaleikini, Senior Director, Hawaii Affairs with Ormat Technologies, a leading geothermal company engaged in geothermal and recovered-energy generation. He said, "The Puna Geothermal Venture, operating from its start in 1993 to the present, is a geothermal energy power plant on the Island of Hawaii. The plant was shut down shortly after the start of the May 2018 lower Puna eruption, and resumed power generation in November 2020. The State of Hawaii owns all geothermal resources since they are considered mineral resources. Consequently, any private exploitation of geothermal energy will have to pay fees to the state and is also very expensive."
Na'alehu Anthony, Chief Executive Director, 'Oiwi TV; Principal of Paliku Documentary Films was also on the panel and shared, "There is a vast set of resources available to us as we move forward in our clean-energy goal initiatives. We must use them wisely. Given that, we need to find organizational tools to allow for this information to be available and accessible to all stakeholders so that we can work together for the best solutions for all."
***
Launched in 2014 by Maui Economic Development Board (MEDB) with support from the County of Maui Office of Economic Development, the Hawaii Energy Conference (HEC) brings together experts on energy policy, strategies, leadership and innovation. Energy leaders from Hawaii, the Continental U.S., Asia-Pacific and more exchange ideas on how to better serve our communities in today's rapidly changing power generation and delivery environment.